Regular price
$382.79 USD
Regular price
Sale price
$382.79 USD
Unit price
per
Sale
Sold out
Requests? Contact us!



4K + monochrome screen
Bigger LCD screen, more freedom.

High printing speed 50 mm / hour.

Large print volume 180 × 163.9 × 102.4 mm.

Laser engraved build plate
Printing experience with high success rates.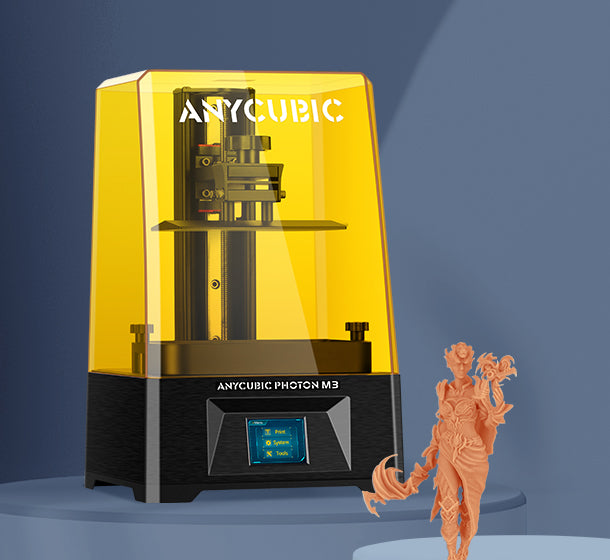 Technical specifications:


● LCD screen: 7.6 "monochrome
● Print volume: 2.99 l
● Light transmittance: 4%
● Contrast: 400: 1
● Light source: parallel matrix light source
● Printing platform: Laser engraved aluminum alloy platform
● Print speed: ≤ 5cm per hour
● Control panel: 2.8 "resistive touch screen
● Data input: USB-A 2.0
● Power input: 55w rated power
● Print size: 18.0 x 16.3 x 10.2 cm
● Printer dimensions: 42.5 x 26.9 x 25.6 cm (HLW)
● Printer weight: 7 kg
Unleash your imagination

With a high-quality 7.6-inch monochrome screen, the print volume of the Anycubic Photon M3 is up to 180 × 163.9 × 102.4mm.
Refine your mind

Very high resolution of 4,096 x 2,560 pixels. It is capable of producing parts with high dimensional accuracy and intricate details.
The foundation is the key

The new print plate has a textured checkerboard pattern which greatly improves adhesion and print success rate.
Ultra fast printing

The fastest print speed can reach 50mm / h and only takes 2.5 hours to print a 12cm high miniature, which is 30 minutes less than 3 hours for competing products.
Extremely sharp and precise edges

The printer adopts a 400: 1 contrast LCD screen, 100% higher than the competition. The high contrast leads to parts with a better surface finish.
Powerful illuminating matrix

With the Anycubic LighTurbo matrix light source system, the LED matrix balls will provide strong light energy, making printing at high speed possible.
Protect what matters

The anti-scratch protective film greatly extends the life of the LCD screen.
Fully compatible slicer

Fully compatible with all Anycubic resin printers. It is easy to use and offers a versatile and professional service with no monthly fee.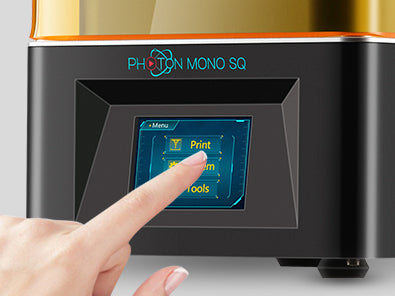 User-friendly interface

More comfortable and intuitive to use and adjust the parameters.
Package Contents


Funnel Gloves Mask Screen Protector Platform Power cable
Resin container Chisel USB pen Manual Tool set
Shipping and Warranty

All products available in stock will be delivered with an average timing of 24/48 hours.

Italy warranty with dedicated consulting support, contact us!
Share
View full details
Contacts
3Digital by De Zan Davide
Registered Office :
Via Maset 31/B
31020 San Pietro di Feletto (TV)
Italy
CF DZNDVD98A16C957D
Operational Headquarters and Point of Sale :
Via Cervano 67/A
31020 San Pietro di Feletto (TV)
Italy
Commercial consultancy +39 0438 1693056
(outside working hours,
Elettra
, our virtual assistant based on artificial intelligence, will answer you. Leave your request and you will be contacted by an operator shortly. If you need to speak to someone urgently, just tell her "I want to speak to an operator")